Offshore Services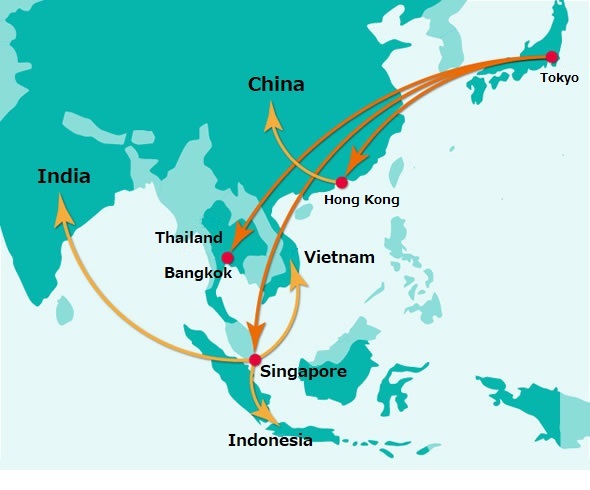 Singapore
In our modern business world, it is very normal that not only a large corporation but also a small-mid sized company do business in a foreign country. Considering to go countries in ASEAN, Oceanian areas or India, Singapore is a very important business hub.
Accounting in Singapore
Generally Accepted Accounting Principle in Singapore is basically complied with IFRS. For clients that can not afford the management cost at the start of the business in Singapore, we offer bookkeeping services. If your parent company is a public traded company, a preparation for quarterly consolidated financial report is important. Communicating with your parent company directly, we can gather all the necessary accounting information, making it possible for the smooth consolidation work.
Tax in Singapore
Taxation is completely different from the one in Japan. You need to calculate taxable income separately from income in corporate accounting. For example, depreciation for any assets would be disallowed if these assets meet some conditions. On the other hands, if you spent for research and developments which are determined by a law, you are allowed to record multiplied deductibles, that is, clearly tax incentives are defined by the government.
Cooperating strongly with the on-site partner there, we consult for any tax issues and support you to prepare the tax returns. Our concrete alliance with the partner there enables us to even communicate with a high class personnel at the tax authorities in Singapore for complicated tax issues.
Thai Japan Desk
Thailand experienced a massive flood in 2011 which destroyed businesses there, but still maintains a high position as one of the top manufacturing base among ASEAN countries. As of 2017, the number of Japan affiliated companies doing business in Thailand is over 6,000.
We have a Japan Desk in Thailand. To do bookkeeping in Thai language would be always troublesome for Japanese companies doing business there. Our partner in Thailand hires Thai nationals for bookkeeping services, which enable us to reduce your hassles for it.
Hong Kong(Partner)
It would be regarded as a standard move that if you want to invest in ASEAN countries, you go to Singapore, while if you want to invest in China, you go to Hong Kong. There are still some political issues lying between China and Japan, it is still considered that consumer markets in China would keep growing.
The corporate tax rate in Hong Kong is relatively low and there are several tax incentives such as non-taxation on capital gain. Therefore, you must take great care for a subsidiary in Hong Kong of tax heaven taxation. Time to time, we advise you for in what kind of conditions tax heaven taxation is not applied.
From January 1, 2012, the tax convention between Japan and Hong Kong becomes effective and it could be said that it reduced a tax risk. We, cooperating with the on-site partner in Hong Kong, provide you with tax/accounting services from the viewpoint of taxation both in Hong Kong and Japan.
Indonesia(Partner)
Indonesia is a pro-Japan nation and many Japanese automobile companies do business there. However, recently, consumer markets in Indonesia is growing rapidly, although it still maintains an image as a manufacturing base. The population of about 250 million people is also very attractive.
We have held seminars for Japanese companies considering to go Indonesia in Tokyo, Kanagawa, Shizuoka and Okayama every year since 2015 and offered supports for the market entry as well.
Realistically, the level of awareness for correctness and compliance to the law is a way different from that of Japan, so it would be difficult to ask for the same level of accuracy and quality of the work as Japan. However, as there is a profound difference in the level of work quality between Japanese accounting firms and local accounting firms in Indonesia, from the viewpoint of strategic management, we recommend you to choose a Japanese accounting firm.
Vietnam(Partner)
When many corporations that have its manufacture base in China think about changing its base to other country, the country they choose is Vietnam.
With the background of Vietnamese's characteristic of being diligent and their young work force, more and more companies go to Vietnam. The average age of the nation is pretty young (about 30 years old) and the population is also growing, almost hitting 100 million, which is very a attractive market as well.
We have a partnership with a Japanese accounting firm in Vietnam and built a trustworthy support system for you doing business in Vietnam.